Stay Moisturized and Protected During the Dry Fall, Winter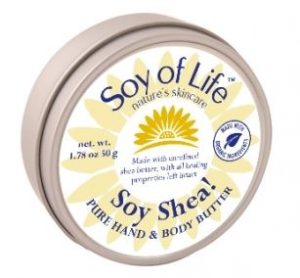 If you are looking for a multi-faceted moisturizer that both rejuvenates your skin and helps with life's little bumps and bruises, then look no further than our Soy Shea! Pure Hand and Body Butter.
Available only during the fall and winter months, this amazing cream will do wonders for your skin, and best of all, it is 100 percent butter – talk about silky smooth! Let's dive in a little deeper into this must-have cream.
What's In It?
Soy Shea! is a blend of pure organic and non-GMO soy and unrefined organic African shea butter which contains natural antioxidants and delivers a deep richness to skin, boosted with vitamins A and E. It is this natural blend that creates the creamy and nourishing texture that is so pure that it may take a few moments to soak in.
All of our customers agree that this butter is so effective that only a pinch is needed to provide them with the excellent results. In the end, all of these ingredients result in a very pleasant moisturizer.
It Soothes Irritated Skin
Not only does Soy Shea! moisturize and rejuvenate your skin, but it can also provide some relief for dry or irritated skin as well. It has been known to quell the symptoms of dermatitis and eczema, and it can even be used to heal small cuts, scratches and burns. Plus, it can be utilized for diaper rashes and cuticle relief as well.
It is truly a fantastic product, but remember, it is only available in fall and winter, so get yours today!
If you love our Soy Shea!, then you will really enjoy all of the other amazing products that we provide here at Soy of Life. We are your one-stop shop for all of your organic and natural moisturizers, and we even offer free shipping on orders of more than $50. Give us a call at 877-SOY-FOR-U to learn more or place your order today.